Our Leaders
Dharma was co-founded by father-daughter team Jeff and Alexia Marcous.
Jeff brings over 20 years of experience in the merchant services industry and Alexia brings entrepreneurial, technical and design skills to their complimentary, balanced partnership.
Their shared work ethic and belief in labora est ora [work is prayer] allows them to follow their hearts in business and lead through service.
Jeff Marcous
Co-founder and Chief Evolutionary Officer, Jeff began selling credit card processing services back in 1991 in Portland, Maine. Through various acquisitions and moves (Boulder, Phoenix, Portland OR) Jeff became a regional manager for Cardservice International, the largest Merchant Service Provider (MSP) in the country at that time. In early 1998, seizing the opportunity with the advent of ecommerce, he became SVP of Business Development for Authorize.Net, creating the most successful online payment gateway, which is now a unit of Visa USA. In late 2007, after reading an article on finding one's life purpose, the idea of starting a company whose purpose was to give back to the community as well as an opportunity to serve the sustainable business community was manifested as Dharma Merchant Services – whose name refers to one's path – specifically by adhering to the principles of right speech, right intentions, right thought, right mindfulness, etc.
As a child of the 60's, Jeff came to the understanding of how fragile and precious the earth really is and has embraced the idea of making a lighter footprint on the planet. An introduction to Transcendental Meditation at the age of 17 set the intention of a spiritual journey that continues today with daily practice and community involvement. It was an easy next step to embrace the idea that business can and should be a part of ones' awakening; in fact for the world to change; for our collective consciousness to be raised; to foster the notion that we are all interconnected; to truly get that we are here to support each other; business must lead the way since it is so influential and dominant in peoples' lives.
Alexia Marcous
Alexia is Co-Founder and Chief Optimistic Officer of Dharma Merchant Services and is Jeff's daughter. Alexia holds a Bachelor of Science in Computer Science from the State University of New York at Stony Brook and an M.B.A. from Drexel University. Alexia was a computer programmer and systems architect consultant for 12 years, serving companies and non-profits in the financial, insurance, pharmaceutical, energy and technology industries. She is a mentor for the Presideo Graduate School Sustainable Management MBA program, and sits on the advisory board of People Powered Savings, a community lending circle, and Green Streets, a recycling and composting operation working in San Francisco's largest public housing developments and run by the residents there. Alexia also founded and runs a chapter of Dining for Women, a fundraising organization for international women's organizations.
An avid martial artist, aspiring sailor and life-long spiritual seeker, Alexia is grateful to have Dharma Merchant Services as a vehicle on the career path to enlightenment. Operating under the banner of "right action, right livelihood" allows her to use her daily work to engage in the practice of balancing the spiritual and material, strengthening the mind through innovation and technological understanding, and expressing compassion for our environment and for each other. Working in the merchant services industry also does wonders for her sense of humor.
Nick Bencivenga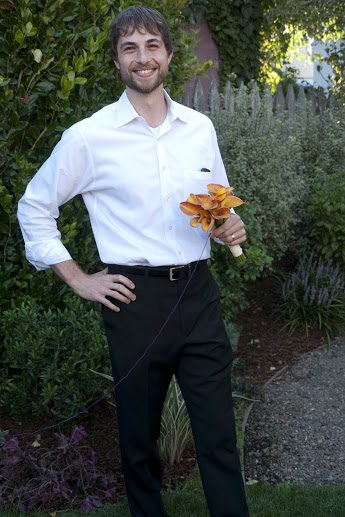 Nick is the Senior Vice President at Dharma Merchant services, and is Jeff's stepson. Nick holds a business degree in Economics and International Studies from Virginia Tech, and has worked in a variety of different industries prior to joining Dharma Merchant Services. Starting his career in sales, Nick worked through university by selling cars, and then moved to the financial services industry where he took a position with a large investment firm. Working in the financial industry gave Nick a new appreciation for what was really important in life, and he subsequently left his position to embark on a new chapter of life. He and his wife packed their bags for Seoul, Korea where they taught English to school children for a year. After much traveling and returning to the states, Nick was introduced to Jeff Marcous, where both a business and personal relationship grew. In 2011, Nick joined Dharma to be part of something new: business as a path of awakening.
As someone who enjoys the action of life, Nick is often found on his bike or rock climbing when not physically at Dharma. He is a whole-hearted supporter of the Paleo lifestyle, and believes that happiness and health are derived from finding your own inner peace and living simply. In that light, he enjoys being in nature, eating seasonal foods, and supporting our community by spending money locally and on ethically created products. He truly feels that our human mission is to enhance our collective situation by operating with compassion, care, kindness, and moral responsibility in every aspect of life. Working at Dharma allows him to bring these values into the business world, and spread compassion wherever possible.
Trace Wendell
Trace is grateful to support and serve the amazing Dharma community as Senior VP of Sales & Marketing. Trace worked in the merchant services industry for 15 years before finally being introduced by a friend to Jeff Marcous and Dharma Merchant Services. Finally! The search for a provider and company that shares his values and operates with integrity was over. Trace has worked as an outside account executive for various merchant providers, a sales director for a multimedia consulting company, and has had extensive experience managing sales and marketing teams in both multimedia and business consulting programs. Born and raised in Texas, Trace still can drawl with the best of them, which you will hear should you happen to need to call in to the Dharma offices in San Francisco, California, his home for almost 20 years. Growing up in rural Texas, Trace learned to love the piney woods and open pastures and developed a fondness for digging in the dirt. Trace continues this passion today by tending a farm plot in Northern California that provides beautiful organic vegetables for both his logical family and his Dharma family during Summer and Fall. Not only does Trace assist potential new Dharma clients with managing the process of opening a merchant account, he is also responsible for much of what you will see on the Dharma social media sites and the Dharma blog. He finds inspiration from the many events he attends supporting the Dharma community of sustainably conscious merchants and non-profits. Additionally, Trace is the guy to talk to if you are interested in referring clients to Dharma; either as a local, sustainable bank or a local sustainable organization.

Trace says his connection to the earth and farming has taught him many valuable lessons about life:

1. Only plant what you want to grow
2. But, learn to love the weeds anyway
3. If it starts to rain, dance
4. Be patient….very, very patient
5. Always share your harvest

Trace is so happy to support the thousands of thriving, diverse clients and partners of Dharma Merchant Services.